Portrait Photo - Eric Fefferman
Books
 • Winners and Losers
Guernica Editions, Spring 2023
Winners and Losers (Tales of Life, Law, Love and Longing) is a collection of linked short stories that turns a dazzling searchlight on the inner workings of the legal profession, told from the viewpoint of a feisty narrator finding her way through a hostile and competitive law environment.
more...
 • Dying Times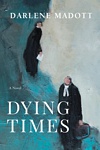 Exile Editions, Autumn 2021
With all these characters bound for glory, every hard core emotion comes into play, love on the verge of abuse and hatred, loyalty on the verge of betrayal, visceral energy on the verge of exhaustion, a story told by a driven woman in a direct prose that blows the lid off everything. Dying Times is a story about several deaths that succeeds in becoming a meditation on dying and a meaningful approach to living....
more...
 • Making Olives and Other Family Secrets - Ripasso
Longbridge Books, 2014
Just as with a Ripasso wine, re-passing Valpolicella over the skins of Amarone grapes too delicious to discard, Madott's literary revisitation of the original Making Olives, amplified with five new "secrets"...
more...
 • Stations of the Heart
Exile Editions, 2012 - Vanderbilt-Exile Short Fiction Prize, 2012
Darlene Madott has a unique way of telling a story, circling, until the moment she slices to the heart. In this collection about women and about the men they love and release are stories about personal journeys, about falling, getting up, and persevering...
more...
 • Making Olives and Other Family Secrets
Longbridge Books, 2008 - Bressani Literary Award, 2008
We are born into families. We die inside or exiled from our families. I began writing "Making Olives" at the age of 26, and could only complete this story at the age of 55, when I finally came to understand meanings that take generations to unfold...
more...
 • Joy, Joy, Why do I Sing?
Canadian Scholars' Press, 2004
In this brilliant collection of short stories, Darlene Madott explores the individual quests of characters to sing themselves out of the void - to seek a motivation beyond the confines of their personal joys and sufferings...
more...
 • Mazilli's Shoes
Guernica, 1999
Mazilli never lets go. Mazilli is a man who will not compromise or dilute the ultimate goal with the odd trip back to Italy. Just as, The Odyssey, all journeys are not about the destination, but about the twists and turns that drive you continuously off course...
more...
 • Bottled Roses
Oberon, 1985
Of the two women I am remembering, one knew the very secret of secrets, which is the art of keeping a secret; the other knew how to use secrets, which meant at some time or other she let them loose...
more...
 • Song and Silence
Borealis Press, 1977
"I don't like the way you played the first phrase ... you seem to sit on that first note. I know Chopin marked it a quarter and the tempo is lento, but you have got to make it to the second note, cheat the note values a little, anticipate the second note, and incidentally, a big accent on it when you land. It's a poignant moment..."
more...